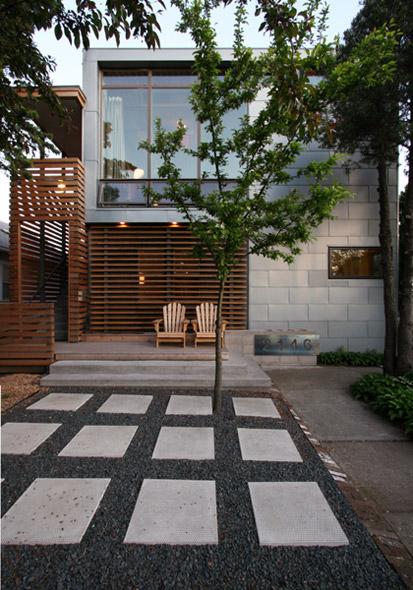 2146 Juliet Ave. | St. Paul, MN | 55105
Architect: RoehrSchmitt Architecture

Built 2007; 3-bedroom, 2.5-bath, 2200 square feet
A 1926 bungalow that architect Michael Roehr and his family of four had been living in for 20 years—a house that had belonged to his wife's grandfather—was radically transformed into a house for the way the family currently lived, not for lifestyles of 50 or 100 years ago. Roehr's objective was to create a house that emulated some of the qualities found in a rooftop dwelling in Mexico, but adapted to a chilly northern climate. By moving the first level living spaces upstairs into a new light-filled loft-like space, and inserting a new master bedroom suite into the original living and dining rooms on the ground floor, the spaces where most waking hours are spent in the house are up in the light and air, with views. At a modest but comfortably flexible 2,200 square feet, the house achieves a commonsense sustainability with the reuse of an existing property in the city; a compact, efficient form; and durable exterior finis hes of zinc, cedar, and stucco.
The house has an ample front porch and courtyard for watching the kids and hanging with the neighbors, and a balcony deck overlooking the garden. The reorganized space has revolutionized life for this family, and reinforced Roehr's belief that better—not necessarily more luxurious—spaces can and do make a difference in quality of life.
Photos by Gilbertson Photography and Michael Roehr.